I had the good fortune of reading with Wendy Hamilton at House of Loom in Omaha. My thanks to Brent for sharing his space with us. And of course to Wendy for not only giving an inspired and energetic reading of her chapter but also for bringing a buffet of Girl Scout cookies, generously provided by her new employer: Girls Scouts of Nebraska. Wendy, I am happy to say, is one of the few individuals I interviewed for the project who seems to have landed a job that fulfills, challenges, and pays her respectably. A rare and welcomed bright spot—and well-deserved good fortune, as Wendy is clearly the consummate professional.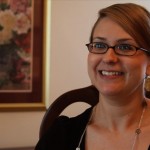 Wendy is also featured in the forthcoming "Not Working" documentary, and when the film composer, David Cieri, first watched her interview he immediately commented on how affected he was by Wendy's willingness to express the feelings of guilt and shame that accompanied her layoff. Indeed, she was so very open about those emotions in a way that many experience but few express in such a succinct, forthright fashion: "…and those were the days that I didn't eat. And those were the days that I didn't get up. And those were the days that I was humiliated and really just felt like a loser. This is not supposed to happen to me."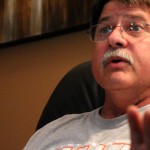 While I was in that neck of the woods I took some time out to visit with Doug Messenger in West De Moines, Iowa. Doug is a draftsman who experienced three layoffs within eighteen months then, at the age of 54, took a job delivering newspapers at 2:30 in the morning. I am happy to report that Doug has secured a full time position as a car porter at a local dealership. He's happy to have benefits but still only makes a fraction of what he did while drafting—and he's logging a few hours every week at the local HyVee supermarket because he still needs that supplementary income.  Doug occasionally looks online for jobs in his field but has resigned himself to the fact that he will likely never do that work again. It isn't how he imagined his life turning out, he says, but he has the will to not let that fact bring him down. Doug has proven himself, over and over again, as someone willing to do whatever he must to help provide for his family—and to do it with the brightest disposition he can summon.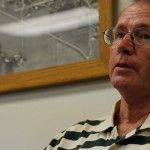 Out in DeWitt, Nebraska, I had dinner with Randy and Marge Badman in their kitchen which had a wooden sign on the counter next to the television: "Happiness is a Choice." It is not the sign itself that is compelling but the fact that Marge and Randy demonstrate this declaration with their own lives. Clearly the 80+ mile commute (each way) to his new job takes its toll on Randy but he, like Doug, manages the less-than-ideal circumstances with a willingness that I admire. I am not certain I would be able to muster the warm smile Randy wears if I were in his position. There are no words to express my deep admiration for this man.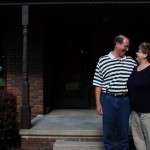 When I met with he and Marge, they had just returned from a whirlwind trip with local high schoolers to the South Pacific – Australia, Hawaii and Fiji. They had been saving for the trip for over two years, and seemed equally exhausted and exhilarated by the experience. It was good to hear of their travels on the far end of the globe, while sitting in their hometown of 572. It is a town that still feels a bit hollowed out by the absence of the Vice Grip tool plant that anchored this community for generations. It is a mammoth complex of buildings that occupies so many of DeWitt's streets—it can not be ignored—and it has now been relegated to rental space and boat storage, according to Randy. And it is the site of the old plant that still hits Randy hard when he's on the last mile of that long commute: "…it's still tough. I see that thing everyday. Like I said, I live three blocks from it. I can't come uptown without going by. Time heals all. Nothing you can do about it. You take a while to get over all the anger and all the depression, you know, and anger doesn't do any good, but it's there. If anybody ever tells you it's not there, they're not telling you the truth. You get angry."
Onward.