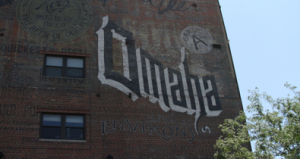 Hitting the halfway point of the journey. Kansas City has reminded me that this is, in fact, the middle of summer: excellent BBQ and unbearable temperatures.
I've put lots of new pictures up. Take a look at some of the sights and folks we've met.

Also, below are some further comments from Pam in Kansas City. She and I have not been able to meet in person but we've had a few email exchanges. I shared some earlier comments from her and her additional thoughts below are definitely worth reading.
From Pam:
Please share my comments as you see fit. I don't have a problem publishing my full name. I'm not hiding anything except from my apartment complex management who don't know I'm running my own modern form of the Underground Railroad out of my apartment. I have too many pets and too many roommates but I have the resources to help so that is what I'm doing. I am so discouraged/disappointed in mine and their families. Nobody realizes the enormity of this crisis until you live it. Due to age, illness, or geography, some people have very few to NO options. If I see a person suffering/struggling, I cannot walk by them anymore. A lucky stray dog or cat will on rare occasion find a kind heart to help them. Same goes to our fellow man now. If thru no fault of their own, a person cannot pay for rent or food or whatever, I will step in and offer assistance, this kind of generosity needs to grow. We need a modern day Underground Railroad because this is the New America that is falling apart before our very eyes. The Middle Class is eroding. Open your eyes, America!