In 1974, Studs Terkel published WORKING, a book that captures the oral history of what people do all day and how they feel about what they do.
In dialogue with Terkel's book, DW Gibson organized NOT WORKING, a project that has produced a book-length oral history (OR BOOKS/Penguin in 2012). The book was accompanied by a film, which Gibson produced with MJ Sieber.
Familiarity with Terkel's WORKING will absolutely enhance interest in this project but it is by no means a prerequisite. NOT WORKING communicates on its own. It provides the names and faces, the pulse of the second Great American Depression.
During the summer and fall of 2011, Gibson and Sieber traveled across the US along with playwright Mallery Avidon. The trip began in Orange County, California and ended in New York City. Gibson interviewed individuals who lost their job because of the economic downturn over the last five years.
Interviews were centered on the exact moment when the job was lost, the conditions that led to that moment, and the consequences that followed. The moment-to-moment details rupture with emotion, tension, humor, and absolute horror. These close-ups are the essence of this project.
These are workers who have lost their job because of economic considerations. They have been let go by forces beyond their will, ability, and sense of commitment. They come from all levels of responsibility and income: hourly wage earners, executives, and every tax bracket in between.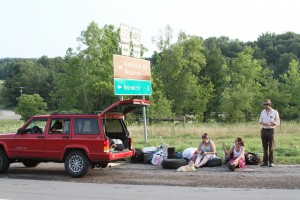 DW Gibson  is the author of the award-winning The Edge Becomes the Center: An Oral History of Gentrification in the Twenty-First Century. He shared a National Magazine Award for his work on "This Is the Story of One Block in Bed-Stuy, Brooklyn" (New York Magazine.) His work has also appeared in Harper's, The New York Times, The Washington Post, The Nation, The Village Voice, and The Caravan; he has been a contributor to NPR's All Things Considered and the podcast, There Goes the Neighborhood.
MJ Sieber is a director and actor whose films include Haven't Seen A Soul In Years and Finger, as well as the web series Ask An Actor and The Barry Reinhardt Show. He is a founding member of New Century Theatre Company, which was given the 2009 Gregory Award for "Theater of the Year."
Mallery Avidon is a playwright interested in the intersection of fact and fiction. Her plays include queerSpawn, breaks & bikes, The Past is Not a Foreign Country (very personal) maps of Seattle and Mary-Kate Olsen is in Love. She is currently developing a series of 16 plays inspired by the interviews collected for NOT WORKING and the experience of the trip. She holds an MFA in Playwriting from Brown University.